Amsterdam faces fairly serious problems right now. Transport is clogging up, and economy, travel, comfort all suffer. Existing solutions, such as cars, trams, buses, ponts and metros all have serious drawbacks. Let's go over these drawbacks one by one.

Cars
Cars in Amsterdam don't have much of a future – the inner city especially suffers much from damage to existing canals. Cars are stressfull and extremely polluting.  You need parking space, and most people in the city are starting to massively shun even owning a car. 
Buses
Amsterdam is a fairly compressed city. Buses can not effectively manouver in the streets. Also, of comparable options I personally experience buses as unappealing and uncomfortable. Buses compete with existing traffic, which worsens gridlock. Buses are slowed by traffic lights. 
Trams
There is no denying Trams are an indispensable part of Amsterdam. They are cleaner than existing alternatives, but can be quite noisy. Trams do have favorable PR – people would not want to see trams disappear from the existing infrastructure. They do require a lot of maintainance and you can't take trams everywhere. There isn't much space for them, and they become prohibitively expensive taken to suburbs.
Subways
Subways are the most appealing option, but are by and large insanely expensive and construction of new subways has become a political black hole. There are no reasonable plans for any of these for the foreseeable future.
Pont
Right now travel to Amsterdam noord functions with a pont. This is nothing short of a logistical nightmare and it's pretty much the only way to take your bike reliably across the Ij. 
There is however an alternative.  It is certain to be a costly alternative but it certainly would be a realistic alternative. It would not damage historical buildings, it would be extremely popular in terms of use by tourists, it would add to the character of the city, it would be able to be constructed pretty much anywhere without plowing through the existing landscape.  It would be safe and could massively unlock suburbs and cross waterways. 
The hanging monorail has remarkable potential to massively unlock travel in and around Amsterdam.  The benefits for tourism, easy travel would be enormous. This website extolls the virtues of monorail, and hanging monorail costs are largely equivalent.  Here's an example I arbitrarily crossed through Amsterdam, and the 31 kilometer would connect Zaandijk with Gein.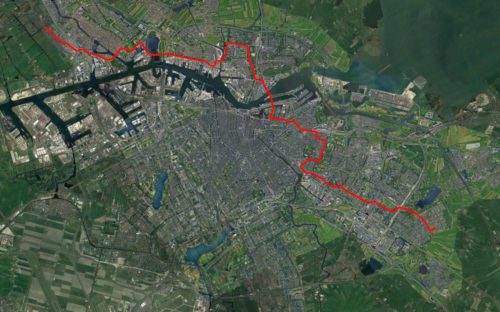 There is no transport paradigm that would be able to compete with this. As a hanging system would be able to gradually move up and down it could cross parks and waterways relatively easy. Some stations would be close to ground level, others would cross elevated railway lines. The crossing over the Het Ij river would be so high elevated it would not interfere with ship traffic. Projected stops could be (at first glance) 
Eindstation de Binding, Zaandam 
Lootmanstraat, Zaandam
De Opera, Zaandam
Treinstation Zaandam (elevated)
Cornelis Bruinzeelweg (elevated)
Thorbeckeweg (elevated)
Sluispolderweg (elevated)
Cornelis Douwesweg
Klaprozenweg 
Koppelingpad (elevated)
Ijdoornlaan (elevated)
Bovenijziekenhuis (elevated)
Noorderpark (elevated)
Gedempte Hamerkanaal (elevated)
Kattenburgstraat (elevated)
Scheepvaartmuseum (elevated)
Hoogte Kadijk (elevated)
Station Muiderpoort (elevated)
Science Park (elevated)
Maxwellstraat (elevated) 
Station Amstel (elevated)
H.J.E. Wenckebachweg (elevated)
Astronautenweg (elevated)
Kruidenommegang (elevated)
Dolingadreef (elevated)
Bijlmerpark (elevated)
Karspeldreef (elevated)
Langebroekdreef (elevated)
Schaarsbergenstraat (elevated)
Wageningendreef
The comparable Wutterthal hanging rail is about twice as long and has about 20 stations versus 30. The trip there takes about 30 minutes, this one would be about 45 minutes.  
A nice benefit of this kind of construction would be to allow elevated stations with potential for connecting kiosks, stores, retail and other services. 
The solution would be incomparably cheaper and faster than an equivalent rail. It can be built almost immediately, and would take years rather than a decade to actually construct, and it would connect parts of Amsterdam previously.  The Noord-Zuid Metro ended up costing 3,1 billion euro. Taking estimates from equivalent metro systems world wide this one would cost less than 500 million. 
I can envision several such lines crisscrossing Amsterdam, and even extend to Haarlem, Schiphol, Almere – especially if parts are not constructed elevated.