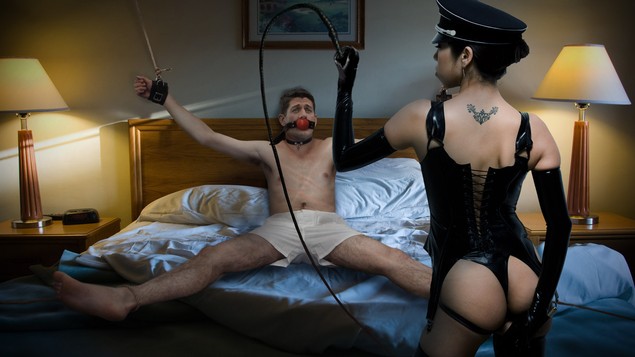 DANVILLE, KY—Lying fully nude with his wrists and ankles tied to the corners of his hotel room bed, an intense, sweat-drenched Paul Ryan reportedly told his staffers today that the only way he could prepare for Thursday night's vice presidential debate was if they slapped his naked, bound body harder and harder.
Sources confirmed the GOP vice presidential nominee had brought in a specially trained debate coach named Madame Renée, a fiercely conservative dominatrix dressed in a formfitting black corset and thigh-high pleather platform boots, to provide the preparation he requested, ranging from heavy paddling, to rope bondage, to discipline lessons, to employing a testicle-clamping device known simply as "the Humbler."
"Slap my face as hard as you can and tell me how much you want bigger government," the bound Wisconsin congressman is said to have shouted through gritted teeth as his aides recited Obama budget proposals, which he then rebutted with campaign talking points between screams of "more" and "faster." "Oh, God, yes, tell me what loopholes we have to close for our tax plan to remain revenue neutral! Tell me the loopholes!"
"Harder!" Ryan is said to have commanded, his body red and battered from hours of being struck with a studded riding crop. "Make me cry."
According to sources, Ryan then insisted that aides rake their fingernails across his chest and spit in his face while calling him a "filthy liberal slut."
Over the previous two days of debate prep, numerous fellow guests of the Sheraton hotel confirmed hearing alternating bellows of pain and pleasure emanating from the building's top floor, as well as what several occupants of the rooms below described as whip cracks, loud slaps followed by satisfied cries of "yes," and what sounded like the exact figure of the U.S. federal deficit screamed out in ecstasy.
According to sources familiar with today's session, after several hours of drills on defense spending involving handcuffs, a Wartenberg wheel, and a metal ball stretcher, aides moved on to the topic of entitlements, during which Ryan insisted he was only capable of retaining all the necessary facts and figures if he was treated like the "dirty little dog" he is. Reports confirmed that Madame Renée and various staffers then dragged the fully nude House Budget Committee chairman around by a leash on his hands and knees, repeatedly forcing him to lick their shoes and drink from the hotel toilet bowl.
"Choke me, please, Madame," the flushed, bruised congressman is said to have requested of the dominatrix as she tugged tighter on his slip collar while he stared at a chart showing the growth of the national debt under Obama's tenure. "Choke me until I'm almost passing out. Please, Madame, please."
"Tighter," he reportedly gasped, as his body tensed and arched from lack of airflow. "Oh, God, I love it! I love it!"
While noting the approach was unorthodox, campaign aides stated that Ryan's fact-retention and ability to maneuver through difficult questions had notably improved as a result of his close work with Madame Renée. In particular, staffers cited Ryan's strong response to being vigorously struck on the chest, buttocks, and inner thighs with a cat o' nine tails every time he mentioned the phrase "middle class," as well as being rewarded for answering health care questions correctly with the dripping of boiling hot paraffin on his nipples and anus.
Sources stated that following a busy and painful day of preparation, the vice presidential nominee spent several hours winding down by putting on a large diaper, suckling from an oversized baby bottle, and insisting that various staff members cradle him in their arms.
"Before the Republican National Convention, we must have slapped Paul's entire body with long wooden switches and thick leather straps for five straight hours, and he gave a great speech," Ryan spokesman Brendan Buck said in a phone conversation during which the congressman could be heard in the background grunting through a ball gag in what was reportedly a combination of pain and pleasure. "I can't tell you how this works or why he does it, but one thing's for sure, he really made a lot of progress on foreign policy after all our female staffers repeatedly kicked him in the scrotum with the points of their shoes."
"If we run through his body-language drills one more time, really double down on our position on women's health issues, and attach electrodes to the glans of his penis as he has requested, I genuinely believe there's no stopping him in tomorrow's debate," Buck added. "Provided of course he doesn't suffer any serious injury of some kind."
At press time, several top GOP strategists and speechwriters were reportedly urinating all over the vice presidential candidate.